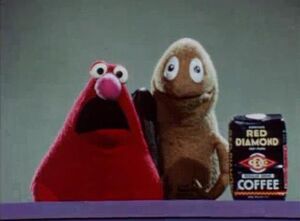 Those Were the Days was a special that aired on December 25, 1977 on WSFA-TV, a local television station in Montgomery, Alabama. The special celebrated the 25th anniversary of the station, showcasing some of the most well-known local talents, as well as more famous connections to the channel.
The Muppets are briefly profiled in the special, citing their classic commercials as a part of the famous acts who got their start on the station. Two examples of Red Diamond Coffee commercials starring Wilkins and Wontkins that aired on the station are shown, preceded by a clip from episode 405 of The Muppet Show (under narration by reporter Bob Howell).
Ad blocker interference detected!
Wikia is a free-to-use site that makes money from advertising. We have a modified experience for viewers using ad blockers

Wikia is not accessible if you've made further modifications. Remove the custom ad blocker rule(s) and the page will load as expected.