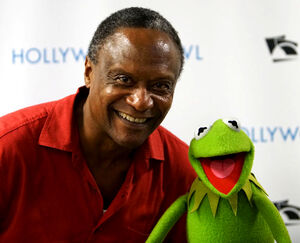 Thomas Wilkins (b. circa 1956) is an orchestra conductor and music director. He most notably serves as the principal conductor for the Hollywood Bowl Orchestra.
Wilkins served as conductor for The Muppets Take the Bowl in 2017. His participation was not limited to conducting, interacting with the Muppets in various vignettes throughout the show, including a musical showdown with Pepe the King Prawn and receiving the punch line phone call of "Mahna Mahna."
External links
Ad blocker interference detected!
Wikia is a free-to-use site that makes money from advertising. We have a modified experience for viewers using ad blockers

Wikia is not accessible if you've made further modifications. Remove the custom ad blocker rule(s) and the page will load as expected.