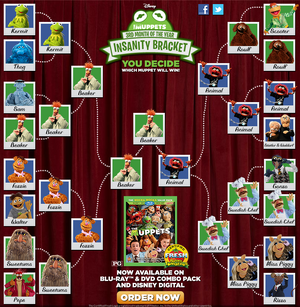 The Muppets: Third Month of the Year Insanity Bracket was an online event created by the Muppets Studio in March 2012 to coincide with the Blu-ray and DVD releases of The Muppets. The tournament and its name are spoofs of the NCAA's March Madness and encouraged fans to vote via Facebook for their favorite Muppet characters in daily match-ups until a winner was crowned on April 9th. The title went to Beaker.
Characters
See also
External links
Ad blocker interference detected!
Wikia is a free-to-use site that makes money from advertising. We have a modified experience for viewers using ad blockers

Wikia is not accessible if you've made further modifications. Remove the custom ad blocker rule(s) and the page will load as expected.