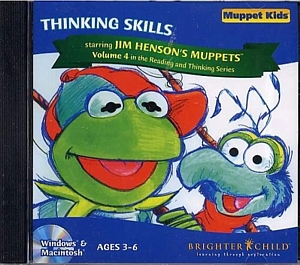 Thinking Skills is a Muppet Kids CD-Rom game produced by Brighter Child in 1997. This game is volume 4 in the Muppet Kids Reading and Thinking Series.
In the game, the player helps the Muppet Kids to solve sorting problems, categorizing objects by type. The grinding work is broken up by short comedic breaks, featuring the adult Kermit and Gonzo.
Ad blocker interference detected!
Wikia is a free-to-use site that makes money from advertising. We have a modified experience for viewers using ad blockers

Wikia is not accessible if you've made further modifications. Remove the custom ad blocker rule(s) and the page will load as expected.