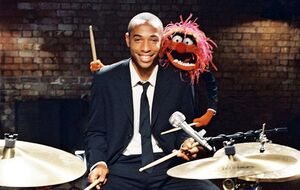 Thierry Henry (b. 1977) is a French football (soccer) player, who plays for the Spanish La Liga club Barcelona, and the French national team.
Henry appeared with Animal in a 2003 commerical for Renault Clio.
One of the most popular players in the world, Henry is a member of the UNICEF-FIFA squad, and is a spokesperson against racism in football, with TIME featuring him as one of the "Heroes and Pioneers" of 2007.
Ad blocker interference detected!
Wikia is a free-to-use site that makes money from advertising. We have a modified experience for viewers using ad blockers

Wikia is not accessible if you've made further modifications. Remove the custom ad blocker rule(s) and the page will load as expected.