They Call the Wind Maria
Talk

0
26,858pages on
this wiki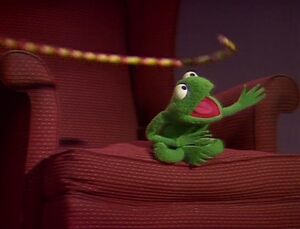 "They Call the Wind Maria," from Lerner and Loewe's Broadway musical Paint Your Wagon, was almost performed on episode 212 of The Muppet Show.
Robin the Frog, who had been feeling small and neglected, was inspired by guest star Bernadette Peters' rendition of "Just One Person" to ask his uncle Kermit to sing "They Call the Wind Maria" on the show. Kermit let him sing "I'm Five" instead.
The persistent Robin does manage to sneak a few bars of the song in, first when "auditioning" for Kermit backstage and again after he finishes "I'm Five." This onstage performance, however, is aborted before he can get very far, as he is pulled offstage by a vaudevillian cane.
References