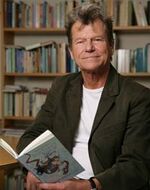 Poet and songwriter Tho Olthuis (b. 1941) has written many novels especially for children, and since 1981 has written mostly for Sesamstraat and theater. Until the end of the 90's he was also a writer and lyricist for other educational children's programs. He is also famous for his lyrics for other Dutch artists such as Herman van Veen.
He is mostly known for his typical ironic kind of humor. Besides lyric writing for the music, he also composes rhymes and short stories for the show.
Sesamstraat Discography
External links
Ad blocker interference detected!
Wikia is a free-to-use site that makes money from advertising. We have a modified experience for viewers using ad blockers

Wikia is not accessible if you've made further modifications. Remove the custom ad blocker rule(s) and the page will load as expected.