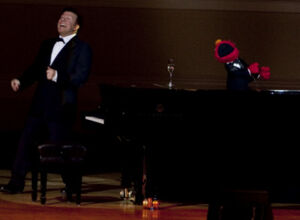 The "Theme from New York, New York," also known as "New York, New York," is the theme from the 1977 Martin Scorcese film New York, New York. It was originally performed by Liza Minnelli and popularized by Frank Sinatra.
Kermit and Miss Piggy sang the "Theme from New York, New York" with Merv Griffin when they appeared on The Merv Griffin Show in 1983 to promote The Muppets Take Manhattan. In Night of 100 Stars, various characters from Muppet productions lead a performance of the song during the New York medley.
Johnny Fiama attempted to sing the "Theme from New York, New York" in a commercial for his Greatest Hits Album, We Hardly Heard Ya, on episode 105 of Muppets Tonight. However, he missed his cue.
The song was performed by various Muppets on stage in 1985 for Night of 100 Stars. They appear in a bus driven by Fozzie Bear and include Count von Count, Grover, Telly Monster, Oscar the Grouch, Ernie, Bert, Janice, Floyd Pepper, Dr. Teeth, Scooter, Rowlf, Dr. Bunsen Honeydew, Beaker, The Swedish Chef, Gonzo, Uncle Traveling Matt, and Statler and Waldorf. Kermit the Frog pops up, as the only soloist in the group, and Barkley stands outside, punctuating the finale with a chorus of barks.
In 2009, Elmo joined Ricky Gervais at Carnegie Hall for a rendition of the number on stage in a special performance.[1]
Sources
Ad blocker interference detected!
Wikia is a free-to-use site that makes money from advertising. We have a modified experience for viewers using ad blockers

Wikia is not accessible if you've made further modifications. Remove the custom ad blocker rule(s) and the page will load as expected.