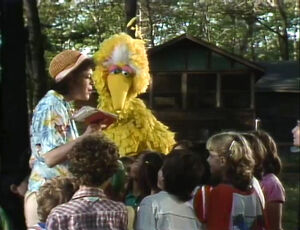 Thelma Moses was on staff on Sesame Street, first as a production assistant from 1975 (season 7) through 1986 (season 17). The following season, she became script coordinator and remained in that capacity through 1998 (season 29). Moses also filled that function on various specials, such as Big Bird's Birthday or Let Me Eat Cake.
In episode 1708 (from 1982), Moses is one of several crew members or staffers name dropped during mail call at Big Bird's summer camp.
Ad blocker interference detected!
Wikia is a free-to-use site that makes money from advertising. We have a modified experience for viewers using ad blockers

Wikia is not accessible if you've made further modifications. Remove the custom ad blocker rule(s) and the page will load as expected.