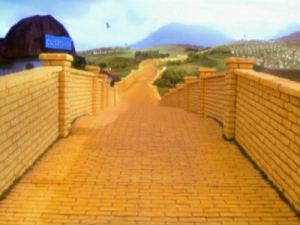 The Yellow Brick Road, the fabled thoroughfare that leads from Munchkinland to The Emerald City in the land of Oz, was featured in The Muppets' Wizard of Oz. According to ABC promos, the road can also lead to Wisteria Lane.
Unlike the representations of the Yellow Brick Road in most Wizard of Oz movies, the one in The Muppets' Wizard of Oz also featured yellow brick walls, a convenient way of hiding the Muppet performers.
Ad blocker interference detected!
Wikia is a free-to-use site that makes money from advertising. We have a modified experience for viewers using ad blockers

Wikia is not accessible if you've made further modifications. Remove the custom ad blocker rule(s) and the page will load as expected.