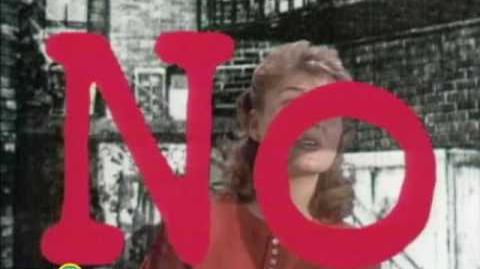 "The Word is "No"" is a song on Sesame Street about the word "no". A music video of the song, performed by Maria and Gina, was featured on the show with appearances by Big Bird, Grover, Prairie Dawn, Bert, Ernie, Hoots the Owl, Count von Count, Meryl Sheep, and Elmo.
The video for "The Word is 'No'" was directed by Laura Di Trapani and produced by noted music video producer Jim Blashfield. DiTrapani also directed another frequently-shown music video produced by Blashfield for Sesame Street, "Monster in the Mirror." The music was arranged by Paul Jacobs.
Notes
Releases
Audio
Video
Publications
Other
Ad blocker interference detected!
Wikia is a free-to-use site that makes money from advertising. We have a modified experience for viewers using ad blockers

Wikia is not accessible if you've made further modifications. Remove the custom ad blocker rule(s) and the page will load as expected.