thumb|300px|Maria, Gina and the Muppets sing "The Word is "No"."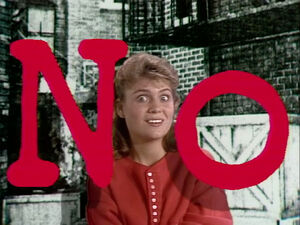 "The Word is "No"" is a song on Sesame Street about the word "no". A music video of the song, performed by Maria and Gina, was featured on the show with appearances by Big Bird, Grover, Prairie Dawn, Bert, Ernie, Hoots the Owl, Count von Count, Meryl Sheep, and Elmo.
The video for "The Word is 'No'" was directed by Laura DiTrapani and produced by Jim Blashfield, who is noted for creating highly-acclaimed music videos for, among others, Talking Heads ("And She Was"), Michael Jackson ("Leave Me Alone") and Paul Simon ("The Boy in the Bubble"). DiTrapani also directed another frequently-shown music video produced by Blashfield for Sesame Street, "Monster in the Mirror."
Releases
Audio
Video
Online
Publications
Other