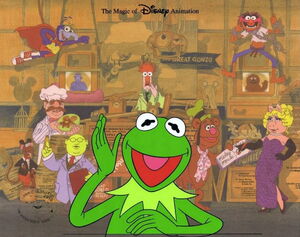 The Wocka Wocka Room is an animation-style collectable cel designed by Disney Design Group artist Costa Alavezos, and sold at Studios Animation Gallery, within Disney's Hollywood Studios. The 1500 cels were hand-painted by Ink and Paint artists James Bonserio, Erin Magill, Theodora M. DeLaney, David Rippberger, Lynn Rippberger, and Sharon K. Vincent.
External links
Ad blocker interference detected!
Wikia is a free-to-use site that makes money from advertising. We have a modified experience for viewers using ad blockers

Wikia is not accessible if you've made further modifications. Remove the custom ad blocker rule(s) and the page will load as expected.