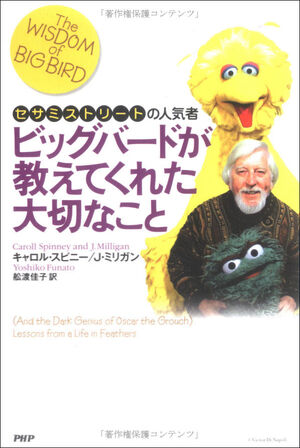 The Wisdom of Big Bird (and the Dark Genius of Oscar the Grouch) was published in 2003. Although the work's secondary title is "Lessons from a Life in Feathers," the book is partly an autobiography that begins shortly before Caroll Spinney joined the fledgling cast of Sesame Street Muppeteers. Interspersed with Spinney's remembrances are lessons that he learned from playing Big Bird and, to a lesser extent, Oscar the Grouch. In addition to the hardback edition, a large-print version was released on October 1, 2003.
Caroll Spinney held a signing of the book at the Muppets, Music & Magic event at the Brooklyn Academy of Music in 2004.
Contents
Introduction: My Life as a Bird
Chapter 1: Listen to Yourself
Chapter 2: Ask Him What He Means
Chapter 3: Take a Pay Cut
Chapter 4: Find Your Inner Bird
Chapter 5: Try Adding More Feathers
Chapter 6: Become Who You Always Were
Chapter 7: Listen to Your Cabbie
Chapter 8: Be a Grouch
Chapter 9: Be Flexible
Chapter 10: Give It a Month
Chapter 11: Wing It
Chapter 12: Make 'Em Laugh
Chapter 13: Go To China
Chapter 14: Write Your Own Story
Chapter 15: Pretend You Can Dance
Chapter 16: Hear The Music
Chapter 17: Watch Your Step
Chapter 18: Be Persistent
Chapter 19: Eat Your Veggies
Chapter 20: Be Honest With Your Audience
Chapter 21: Don't Let Your Feathers Get Ruffled
Chapter 22: Find Compassion
Chapter 23: Be Good To Each Other
Chapter 24: Give Something Back
Chapter 25: Find Your Place In The World
Chapter 26: Remember The Future
Acknowledgements
Ad blocker interference detected!
Wikia is a free-to-use site that makes money from advertising. We have a modified experience for viewers using ad blockers

Wikia is not accessible if you've made further modifications. Remove the custom ad blocker rule(s) and the page will load as expected.