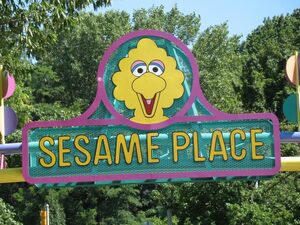 The Wild Duckie Chase was a stage show at the Sesame Place amusement park. The show first opened at the park in 1989, and closed in 1997 when it was replaced with The Amazing Adventures of Elmo and Zoe.
The show used audience participation to put selected visitors in a "movie" with the Sesame Street cast. Audience members were selected and asked to act out, what would appear like random and abnormal actions in front of a green screen, and the audience. At the end of the show, the filmed actions of the participants were used in a movie shown to the audience. By mixing the prescribed actions with pre-taped appearances of the Sesame Street Muppets and cast via chroma-key, the guests appeared to be "interacting" with the characters, sets and plot, taking advantage of the previously mysterious actions the participants were asked to perform. Participants of the show were able to purchase a souvenir copy of their Sesame Street "appearance" on VHS after the show.
The plot took the participants on a search for Ernie's lost Rubber Duckie, meeting many Sesame Street characters along the way and traveling to many exotic locations.
Ad blocker interference detected!
Wikia is a free-to-use site that makes money from advertising. We have a modified experience for viewers using ad blockers

Wikia is not accessible if you've made further modifications. Remove the custom ad blocker rule(s) and the page will load as expected.