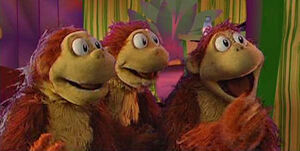 The Wickershams are a family of apes on The Wubbulous World of Dr. Seuss. They are based on the Wickersham Brothers in in the 1954 Dr. Seuss book Horton Hears a Who!
On the series, Wickersham Brothers play various minor parts, often as servants, delivery guys, or sidekicks to Jane Kangaroo and Yertle the Turtle. In the second season, when the show format changed, the Wickershams were more consistently seen only in segments set in the Jungle of Nool.
One of the Wickersham puppets has made an appearance on Sesame Street as a NasCount greasemonkey in one of the sketches of episode 4154. He also appeared in Happy Healthy Monsters, where he is performed by David Rudman.
Ad blocker interference detected!
Wikia is a free-to-use site that makes money from advertising. We have a modified experience for viewers using ad blockers

Wikia is not accessible if you've made further modifications. Remove the custom ad blocker rule(s) and the page will load as expected.