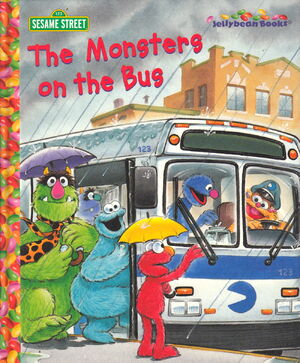 "The Wheels on the Bus" is a popular children's song, in the public domain, which repeats the movements or sounds made by the bus's parts and occupants. A version performed by Ernie, Bert and the Kids has appeared on several Sesame Street albums. The song was the basis for the 2001 book The Monsters on the Bus. It was prominently featured in the 2013 sound book Sesame Street Bus and also a selection in the computer game Baby & Me (1999( and the sound book Elmo's Rock Star Guitar (2002).
On Sesame Street itself, the song was prominently featured in episode 3920 (from 2001), as the favorite song of Lulu, who sings it for most of the episode (later including lyric alterations). Other known uses, often with altered lyrics, include "Elmo's World: Bicycles" and episode 4163 (2008).
Releases
Audio
Ad blocker interference detected!
Wikia is a free-to-use site that makes money from advertising. We have a modified experience for viewers using ad blockers

Wikia is not accessible if you've made further modifications. Remove the custom ad blocker rule(s) and the page will load as expected.