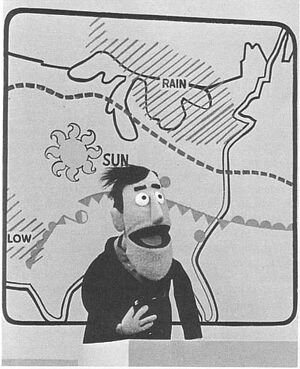 The Weather Show is a Sesame Street sketch. Although hosted by Guy Smiley, it's not a standard game show sketch but rather a talent showcase/competition. Instead, Guy describes various weather phenomena such as wind, rain, and snow.
Whereas other shows just tell you what the weather is going to be like, Guy Smiley actually brings us the weather right on his stage.
Musical accompaniment is provided by the Jascha Lombardi Orchestra. The songs include "Singin' in the Rain", "Gone with the Wind" and "Winter Wonderland". While Guy Smiley is frequently the "fall guy" during Sesame Street game shows, in this sketch the conductor is the one victimized by weather-related gags.
Ad blocker interference detected!
Wikia is a free-to-use site that makes money from advertising. We have a modified experience for viewers using ad blockers

Wikia is not accessible if you've made further modifications. Remove the custom ad blocker rule(s) and the page will load as expected.