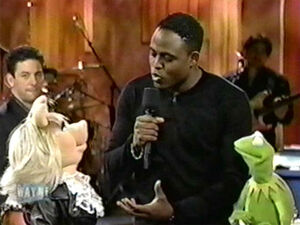 The Wayne Brady Show was a daytime talk show hosted by comedian Wayne Brady from 2001 to 2004.
Appearances
October 14, 2003 - Kermit and Miss Piggy appear on The Wayne Brady Show to promote the DVD release of It's a Very Merry Muppet Christmas Movie. Brady, Kermit and Piggy sing "Brick House". Brady also shows a picture of the Jim Henson statue at the University of Maryland.
Sources
Ad blocker interference detected!
Wikia is a free-to-use site that makes money from advertising. We have a modified experience for viewers using ad blockers

Wikia is not accessible if you've made further modifications. Remove the custom ad blocker rule(s) and the page will load as expected.