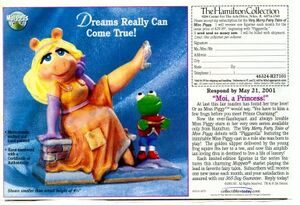 In 2001, the Hamilton Collection released the first in a planned series of collectible figurines, The Very Merry Fairy Tales of Miss Piggy.
The first figure, "Piggarella", depicted Miss Piggy as the lead in the Cinderella story, trying on the glass slipper.
The figurine's advertisement described the figure, and the line: "Now the ever-flamboyant and always lovable Miss Piggy stars in her very own series available only from Hamilton. The Very Merry Fairy Tales of Miss Piggy debuts with "Piggarella", featuring the inimitable Miss Piggy cast in a role she was born to play! The golden slipper delivered by the young frog squire fits her to a tee, and now this amphibian-loving diva is destined to live a life of luxury! Each limited edition figurine in the series features this charming Muppet starlet playing the lead in favorite fairy tales."
"Piggarella" was the only figure produced in this line.