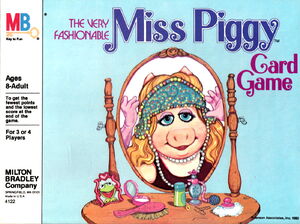 The Very Fashionable Miss Piggy Card Game was produced by the Milton Bradley Company in 1980. The game includes a deck of 24 cards featuring Miss Piggy in a variety of outfits, and a scorepad. A companion game was also released, called Kermit the Frog Card Game.
From the rules:
"

It's all yours... a glamorous deck of cards, strategic game play and lots of fun when you play the MISS PIGGY Card Game, a unique Follow-Suit kind of game that's full of "tricks" for you. For example, in order to win you must get the fewest number of points to get the lowest score. You do this sometimes by collecting no MISS PIGGY Face Cards and other times by collecting certain combinations of MISS PIGGY Face Cards... it's up to you to decide what strategy to take.

"
See also
Ad blocker interference detected!
Wikia is a free-to-use site that makes money from advertising. We have a modified experience for viewers using ad blockers

Wikia is not accessible if you've made further modifications. Remove the custom ad blocker rule(s) and the page will load as expected.