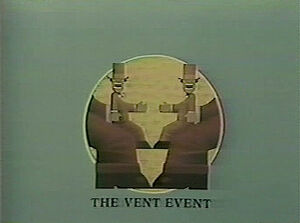 The Vent Event was the first of several adult-oriented ventriloquist stage show specials produced for HBO. It aired on March 3, 1978, with repeats shown on March 11 and 14. Hosted by Steve Allen, guest performers included Edgar Bergen and Charlie McCarthy, as well as Shari Lewis and Lamb Chop.
Bergen invited the Muppets to appear at the event, but the shooting schedule for The Muppet Show prevented their studio participation. Instead, Kermit and Fozzie Bear appeared in a pre-taped cameo, greeting the audience. They introduce Dr. Jerry Nelson, the world's foremost authority on the Muppets, who gives a speech on their history (which bores Fozzie greatly), until he is carried away by Sweetums.
Gallery
Ad blocker interference detected!
Wikia is a free-to-use site that makes money from advertising. We have a modified experience for viewers using ad blockers

Wikia is not accessible if you've made further modifications. Remove the custom ad blocker rule(s) and the page will load as expected.