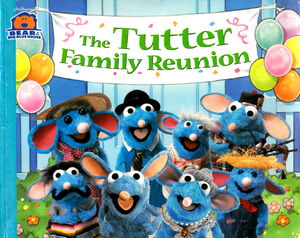 The Tutter Family Reunion is a 2001 Bear in the Big Blue House storybook based on the episode "The Tutter Family Reunion".
The book was also reprinted in 2003 by Simon & Schuster.
Characters
Bear, Tutter, Pip and Pop, Ojo, Treelo, Grandma Flutter, Uncle Tito del Tutter, Tardy, Grandpa Highland McTutter, Whiner, Shouter, Jim and June Tutter
Ad blocker interference detected!
Wikia is a free-to-use site that makes money from advertising. We have a modified experience for viewers using ad blockers

Wikia is not accessible if you've made further modifications. Remove the custom ad blocker rule(s) and the page will load as expected.