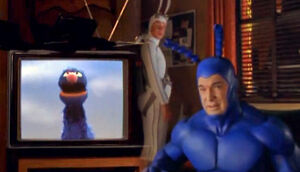 The Tick is a comic book character created by Ben Edlund. A parody of superheroes in general, the Tick is a strange, justice-obsessed individual who usually causes more damage than he prevents and often gives nonsensical, long-winded soliloquies about the nature of justice in the style of those often given by Adam West on the 1960s Batman series. The Tick also appeared in two Fox television series -- an animated Saturday morning cartoon which aired from 1994 to 1996, and a live-action series from 2001 to 2002.
Muppet Mentions
In the Tick's first appearance, drawn in 1986 for the New England Comics Newsletter, the hero escapes from an insane asylum in Minnesota overseen by Dr. Bunsen Honeydew (whom The Tick calls "Honeydip") and Beaker. Bunsen describes the Tick's personality: "He is superhumanly strong and nigh invunerable, with the intelligence level of topsoil."
In an episode of the live action TV series, The Tick is watching Grover on TV, and wistfully says, "Daddy."
Trivia
Edlund referenced the Muppets again as co-writer of the "Smile Time" episode of Angel.
Connections
External links
Ad blocker interference detected!
Wikia is a free-to-use site that makes money from advertising. We have a modified experience for viewers using ad blockers

Wikia is not accessible if you've made further modifications. Remove the custom ad blocker rule(s) and the page will load as expected.