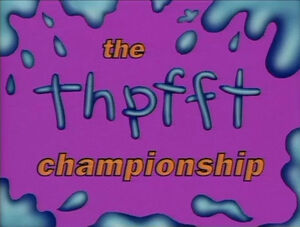 One Sesame Street segment from the 1990's highlights The "Thpfft" Championship, where babies compete by blowing raspberries. Junior, the "junior reporter" (performed by Fran Brill), narrates the events, the first of which is to go "thpfft" 20 times.
Contestant Meggy O'Riley from Ireland goes first, but is only able to go "thpfft" twice. Next is Wandy Marco from Spain, who only goes "thpfft" six times before falling asleep. Finally, there's Baby Natasha, who is easily able to "thpfft" to 20.
Contestants
Notes
Ad blocker interference detected!
Wikia is a free-to-use site that makes money from advertising. We have a modified experience for viewers using ad blockers

Wikia is not accessible if you've made further modifications. Remove the custom ad blocker rule(s) and the page will load as expected.