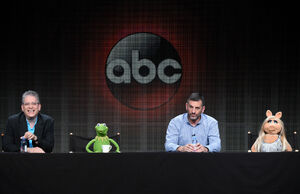 The Television Critics Association (TCA) is a group of approximately 200 United States and Canadian journalists and columnists who cover television programming. They meet in Pasadena, California in January for the Winter Press tour, and in Beverly Hills California in July for the summer press tour. Winter Press tour is about the upcoming Spring and early Summer Television shows. The tour in the Summer is about the upcoming Fall and early Winter Television shows.
Bill Prady, Kermit the Frog, Bob Kushell, and Miss Piggy appeared at the 2015 Summer Press Tour on August 4, 2015 to promote The Muppets.

Gallery
Ad blocker interference detected!
Wikia is a free-to-use site that makes money from advertising. We have a modified experience for viewers using ad blockers

Wikia is not accessible if you've made further modifications. Remove the custom ad blocker rule(s) and the page will load as expected.