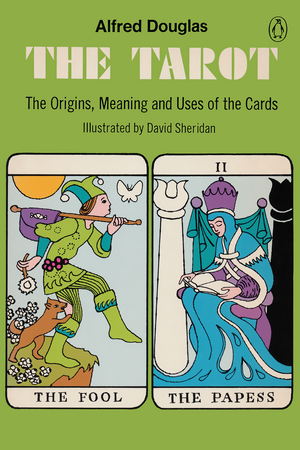 The Tarot: The Origins, Meanings and Uses of the Cards is a book published in 1972, written by Alfred Douglas with illustrations by David Sheridan. Its description claims it as an "exciting book of occult detection [that] tells all that can be told about the ancient and mysterious set of playing cards known as the Tarot."
In The Muppet Show episode 501 (the last produced in the series), Scooter asks Beauregard if he'd like to tell him what he'll be doing in the future. He reads from a set of fortune telling cards that for Beau, "the Seven of Lumps is in the ascendancy with the Beginning of the Drowning Refrigerator." Scooter tells him that it means it's the End of the World.
Several gags throughout the episode involve Beau stressing out about the prediction, and he even gives his sponge mop away to Gene Kelly. Other occurrences include the crew of The Swinetrek missing out on the meaning of life (and The Newsman misplacing it), and The Announcer appearing on camera in Pigs in Space and Veterinarian's Hospital.
Saying goodnight at the end of the show, Beau asks Gene Kelly how he could have a good time when the world is coming to an end. In an attempt at easing Beau's nerves, Gene produces a copy of The Tarot, which he has used as an instructional manual to interpret the meaning of the prediction from the fortune telling cards, and says that Scooter made a mistake. "When the Seven of Lumps is in the ascendancy with the Beginning of the Drowning Refrigerator, it doesn't mean the world is ending, it means your laundry will come back grey and dingy."
Beau just thinks Gene is trying to make him feel better, and reasserts that the end is near. Kermit corrects him, "no, the end is now." Gene laughs and throws The Tarot over his shoulder.
Ad blocker interference detected!
Wikia is a free-to-use site that makes money from advertising. We have a modified experience for viewers using ad blockers

Wikia is not accessible if you've made further modifications. Remove the custom ad blocker rule(s) and the page will load as expected.