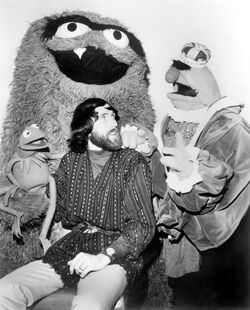 Tales From Muppetland was a series of fairy-tale themed Muppet TV specials. The original series included Hey Cinderella!, The Frog Prince, and The Muppet Musicians of Bremen.
After production of The Muppets Musicians of Bremen in 1972, Henson considered other Muppetland specials, however none were produced; according to Jim Henson: The Biography:
"

Jim was filing away ideas for future installments of Tales from Muppetland, such as adaptations of Aladdin and Jack and the Giant Killer. He was also interested in adapting several books that were personally meaningful to him, including The 13 Clocks ("the one property I've wanted to do with the Muppets for twenty years," Jim wrote) and Margery Williams's sentimental The Velveteen Rabbit, which Jim briefly considered producing with Raymond Wagner at MGM Studios. None of these projects, however, would advance much further than his notebooks.[1]

"
In the 1980s, Emmet Otter's Jug-Band Christmas was categorized as a Muppetland special on its initial home video release, though it was not originally produced under the "Muppetland" banner.
See also
Sources
↑ Jim Henson: The Biography by Brian Jay Jones (page 188)
Ad blocker interference detected!
Wikia is a free-to-use site that makes money from advertising. We have a modified experience for viewers using ad blockers

Wikia is not accessible if you've made further modifications. Remove the custom ad blocker rule(s) and the page will load as expected.