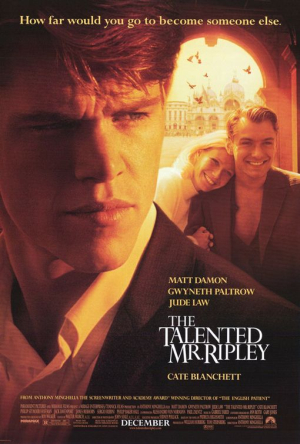 | | |
| --- | --- |
| Released | 1999 |
| Duration | 120 minutes |
| Director | Anthony Minghella |
| Music | Gabriel Yared |
| Studio | Miramax Pictures |
| Rated | R |
The Talented Mr. Ripley is a 1999 feature film based on the Patricia Highsmith suspense novel. The plot focuses on the seemingly amoral Tom Ripley, and his campaign of murder and impersonation. The film received five Academy Award nominations, and was directed by Creature Shop veteran Anthony Minghella. Minghella used Jim Henson's Creature Shop to supply digital effects, specifically digital compositing.
Cast
Matt Damon as Tom Ripley
Gwyneth Paltrow as Marge Sherwood
Jude Law as Dickie Greenleaf
Cate Blanchett as Meredith Logue
Philip Seymour Hoffman as Freddie Miles
Jack Davenport as Peter Smith-Kingsley
Creature Shop Credits
Ad blocker interference detected!
Wikia is a free-to-use site that makes money from advertising. We have a modified experience for viewers using ad blockers

Wikia is not accessible if you've made further modifications. Remove the custom ad blocker rule(s) and the page will load as expected.