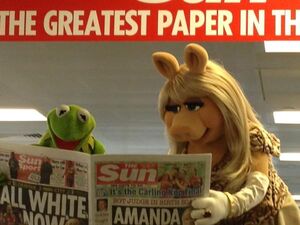 The Sun is a daily tabloid newspaper published in the United Kingdom and owned by News Corporation. It has the tenth-largest circulation of any newspaper in the world and the largest circulation of any daily newspaper in the United Kingdom.
Kermit the Frog and Miss Piggy were guest editors on January 26, 2012 in a promotion for the United Kingdom premiere of The Muppets.[1] In a Twitter posting about the honor, Kermit tweeted, "Any gossip attributed 2 Miss Piggy & involving me is NOT THE TRUTH. Thanks."[2] He also tweeted, "Just read over Bizarre section. Wonder if it was named after Great Gonzo?"[3]
References
In episode 210 of The Muppet Show, Piggy declines Fleet Scribbler's offer to dish gossip on her fellow performers but changes her mind when he offers her a "picture spread... for page three." This is a reference to The Sun, which features photographs of topless women on the third page, just on the inside of the cover.
Sources
External links
Ad blocker interference detected!
Wikia is a free-to-use site that makes money from advertising. We have a modified experience for viewers using ad blockers

Wikia is not accessible if you've made further modifications. Remove the custom ad blocker rule(s) and the page will load as expected.