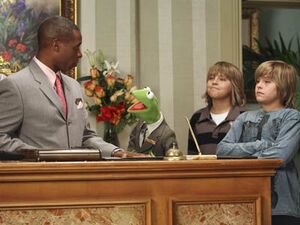 The Suite Life of Zack & Cody is an Emmy Award nominated American sitcom with premiered on the Disney Channel in 2005. The series follows the adventures of Zack and Cody Martin (played by Dylan and Cole Sprouse), twins who live at the Tipton Hotel.
In Studio DC Hosted by Dylan and Cole Sprouse, the show was parodied, with Kermit taking on the role of hotel manager.
Connections
External links
Ad blocker interference detected!
Wikia is a free-to-use site that makes money from advertising. We have a modified experience for viewers using ad blockers

Wikia is not accessible if you've made further modifications. Remove the custom ad blocker rule(s) and the page will load as expected.