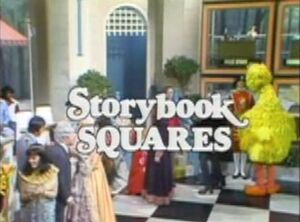 Storybook Squares was a short-lived Saturday morning version of Hollywood Squares hosted by Peter Marshall which originally ran for 16 episodes on NBC from January 4-April 19, 1969 (although repeats continued through the end of August). Children competed for prizes while playing Tic-Tac-Toe, with the primary difference from Hollywood Squares being that the celebrities (usually the same ones from Hollywood) were in costume and character as well-known fictional personalities (and a few historical figures, as well).
For six weeks in 1976-77 on Hollywood, the Storybook name and format were revived within the regular timeslot. Big Bird appeared as himself on December 19, 1977, and as with previous appearances addressed Marshall as "Mr. Marshmallow", akin to his difficulties with Mr. Hooper's name.
Panelists
Ad blocker interference detected!
Wikia is a free-to-use site that makes money from advertising. We have a modified experience for viewers using ad blockers

Wikia is not accessible if you've made further modifications. Remove the custom ad blocker rule(s) and the page will load as expected.