The StoryTeller: Dragons is a graphic novel mini-series published by Archaia beginning in December 2015.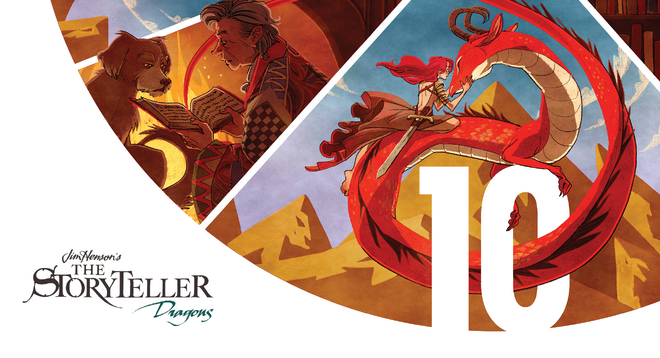 Issue 1
The Son of the Serpent
Release date: December 02, 2015
Story and art by Daniel Bayliss; Script by Fabian Rangel, Jr.
Dragons have taken many different shapes in cultures across the world, from serpents and "worms" to thunderbirds and the classic European firebreather. In this first issue, Fabian Rangel Jr. (Mouse Guard: Legends of the Guard) and artist Daniel Bayliss (Translucid) bring us "Son of the Serpent," inspired by Native American stories about the Horned Snake and the Thunderbird.
Issue 2
The Worm of Lambton
Release date: January 20, 2016
Written and illustrated by Nathan Pride
Nathan Pride tells the tale of "The Worm of Lambton." A young heir to a kingdom catches a horrid Worm while fishing on the banks of the River Wear and throws it into a well in disgust. When the Worm outgrows the well and begins to torment the nearby villagers, the heir will have to return to stop it.
Issue 3
Albina
Release date: February 17, 2016
Written and illustrated by Hannah Christenson
Hannah Christenson (Mouse Guard: Legends of the Guard) presents "Albina," the gender-swapped retelling of the Russian folktale wherein a legendary warrior and her servant face the three-headed dragon Tugarin Zmey.
Issue 4
Samurai's Sacrifice
Release date: March 16, 2016
Written and illustrated by Jorge Corona
Russ Manning Most Promising Newcomer Award-winner Jorge Corona (We Are Robin, Feathers) presents the tale "Samurai's Sacrifice," based on the Japanese folklore of the dragon Yofune Nushi and the young girl who faced him to protect her village.
See also
Ad blocker interference detected!
Wikia is a free-to-use site that makes money from advertising. We have a modified experience for viewers using ad blockers

Wikia is not accessible if you've made further modifications. Remove the custom ad blocker rule(s) and the page will load as expected.