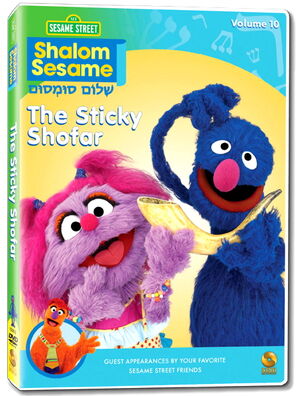 The Sticky Shofar is a release from the 2010 revival of Shalom Sesame.
"
It's Rosh Hashanah, and Avigail discovers that honey is sweet and very, very sticky! Grover, Avigail and Brosh learn a valuable lesson in friendship and forgiveness, just in time to start the new year right!
"
Segments
Kids talk about what Rosh Hashanah is.
Animation: Hebrew Calendar - Tishre
Film: A family celebrates Rosh Shashana.
Rosh Hashanah Hannah sings "Shana Tova."
Ann Curry explains what "apology" means.
DVD Bonus
Sing-A-Long: Rosh Hashanah Hannah
Grover's Video Player: "The King and The Bee"
Ad blocker interference detected!
Wikia is a free-to-use site that makes money from advertising. We have a modified experience for viewers using ad blockers

Wikia is not accessible if you've made further modifications. Remove the custom ad blocker rule(s) and the page will load as expected.