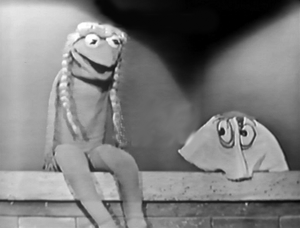 The Steve Allen Show was a popular Sunday-night variety show that aired from 1956 to 1960, hosted by Steve Allen.
Jim and Jane Henson appeared as guests on The Steve Allen Show on November 4, 1956 with a performance of "I've Grown Accustomed to Your Face."
They returned on April 21, 1957 to perform Stan Freberg's version of "The Yellow Rose of Texas".
Ad blocker interference detected!
Wikia is a free-to-use site that makes money from advertising. We have a modified experience for viewers using ad blockers

Wikia is not accessible if you've made further modifications. Remove the custom ad blocker rule(s) and the page will load as expected.