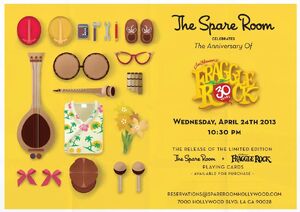 The Spare Room is a gaming parlor and cocktail lounge located in Hollywood, California.
On April 24, 2013 the Spare Room celebrated the 30th anniversary of Fraggle Rock with a special event sponsored by the Henson Company. The free public event included Fraggle-inspired drinks, games, and musical performances.
Gobo Fraggle (John Tartaglia) and Red Fraggle (Karen Prell) were present at the event. The duo posed for pictures with guests and hosted the various performances and other festivities throughout the night. Guests included Josh Sussman (Glee), Rich Sommer (Mad Men), Kearran Giovanni (One Life to Live), Laura Allen (The 4400), actress Jackie Geary, actor David Sheridan, Robert Baker (Grey's Anatomy, The Lone Ranger), Rami Malek (Night at the Museum), Steven Glickman (Big Time Rush), and Ally Maynard (@missmayn).
Playing cards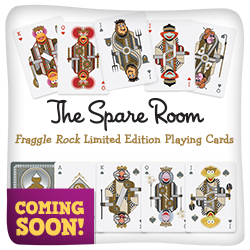 The Spare Room and Henson Company created a limited-edition deck of Fraggle Rock playing cards produced by the US Playing Card Company. The Spare Room sold the cards at the April 24th event and sold decks online afterwards.
External links
Ad blocker interference detected!
Wikia is a free-to-use site that makes money from advertising. We have a modified experience for viewers using ad blockers

Wikia is not accessible if you've made further modifications. Remove the custom ad blocker rule(s) and the page will load as expected.