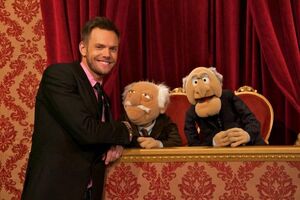 The Soup was an E! weekly series, a revamped version of Talk Soup that focuses on recaps of various pop culture and television show moments of the week. The show was hosted by comedian Joel McHale, who provided sarcastic and biting commentary on the various clips.
Statler and Waldorf appeared on the program on March 21, 2012. The pair heckled McHale at multiple times throughout the program. Statler and Waldorf also appeared in a web-exclusive spoof of The Soup. The famous Muppets duo replace McHale as host and make quips and commentary on a selection of old-time clips.[1]
Sources
External links
Ad blocker interference detected!
Wikia is a free-to-use site that makes money from advertising. We have a modified experience for viewers using ad blockers

Wikia is not accessible if you've made further modifications. Remove the custom ad blocker rule(s) and the page will load as expected.