Ad blocker interference detected!
Wikia is a free-to-use site that makes money from advertising. We have a modified experience for viewers using ad blockers

Wikia is not accessible if you've made further modifications. Remove the custom ad blocker rule(s) and the page will load as expected.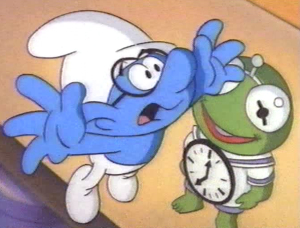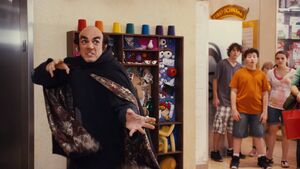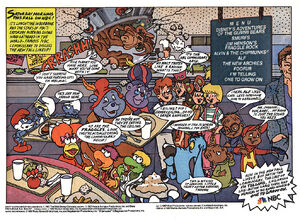 The Smurfs were created by the Belgian comic artist Peyo in 1958. The race of little blue people later starred in a successful Hanna-Barbera animated series, which ran from 1981 until 1990.
Some of the Smurfs, including Papa Smurf and Brainy, appeared along with Baby Kermit, Baby Piggy, and Baby Gonzo in the 1990 animated television special Cartoon All-Stars to the rescue.
Mentions
In The Smurfs 2011 movie, an unauthorized Elmo walk-around is seen on the streets of New York, and the Smurfs thought it was a red troll. The Muppet Whatnot Workshop is also seen in the background of another scene, when Gargamel is thrown out of the elevator at FAO Schwarz.
References
Appearances
During the time that The Smurfs aired Saturday morning's on NBC, they appeared in a print ad together with the Fraggles, as well as with characters from Disney's Adventures of the Gummi Bears, ALF, Alvin & the Chipmunks, The New Archies, Foofur and more, all hanging out in the "world-famous NBC commissary."
Connections