The Smithsonian Institution
Talk

15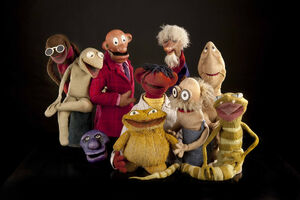 The Smithsonian Institution in Washington, D.C. holds many Henson artifacts including Kermit the Frog, Bert, Ernie, and Oscar the Grouch puppets, and parts of the original Sesame Street sets.
In May 2006, an exhibit called Muppets and Mechanisms opened at the Smithsonian. The exhibit, divided into three displays at the American History Museum, featured nine puppets from the original Sam and Friends show; a display of characters puppeteered by Jim Henson including Dr. Teeth, Rowlf the Dog, Kermit, and Jim; and animatronic figures and mechanisms from The Dark Crystal and Emmet Otter's Jug-Band Christmas. Jane Henson opened the exhibit.
Also in the collection is Guy Gilchrist's artwork from The Muppets comic strip.
Jane Henson, on behalf of the Jim Henson family, donated 10 of the original Sam and Friends puppets to the Smithsonian's National Museum of American History on August 25, 2010. These included the original Kermit, Pierre the French Rat, Yorick, Mushmellon, Sam, Harry the Hipster, Chicken Liver, Icky Gunk, Moldy Hay, and Professor Madcliffe.[1] The puppets will be displayed in the pop culture gallery, and there are plans to include clips of the show to the display. Jane Henson stated that the family plans to donate a dozen more puppets to the Smithsonian in the future, possibly including Miss Piggy. [2]
A traveling Smithsonian exhibit of Muppets opened Sept. 24, 2010 at Chicago's Museum of Science and Industry.[2]
References
Night at the Museum: Battle of the Smithsonian is a film about museum artifacts at the Smithsonian coming to life. Oscar the Grouch makes a cameo in the film.
Gallery
Sources
↑ Kermit the Frog Comes Home to Washington, smithsonian.org, SI-368-2010
↑ 2.0 2.1 Original Kermit donated to Smithsonian Brett Zongker, associated press, washingtontimes.com, 25-aug-2010
External links