The Sloppy Jalopy is Oscar's junk car featured on Sesame Street. The car has a sign painted on the side: "Oscar's Taxi Service: Ride At Your Own Risk". The car was seen on the show as early as Season 12.
The Jalopy was the featured element of the street story in a 1993 episode, as Oscar reminisces about his time with the car.
The car was featured in The Sesame Street Special and the 1997 video Fiesta!, where it was being used as a carosa (float) by the kids to replace Rosita's broken float. Elmo thought that a fairy godmother transformed his pineapple into this Sloppy Jalopy as the float for the kids.
Oscar takes Bob to Grouchytown in the car in a 1989 episode.
In a 2006 episode of Sesame Street, Oscar and Grundgetta drive the car in a race. In the 2009 storybook, Love, Elmo, Oscar is fixing up the Sloppy Jalopy to use it as a taxicab.
Follow that Bird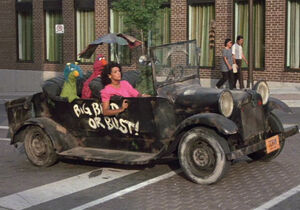 Another car was featured in Follow That Bird with a different look and vehicle make. Since his horn is broken, Oscar has a Honker in the backseat to fill that function. A ragged umbrella covers the back area, and a "Big Bird or Bust!" sign is hand painted in a ragged scrawl. The license plate reads, "SCRAM."
See also