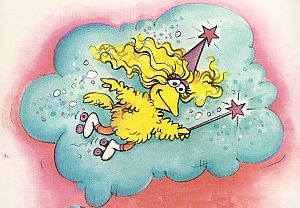 The Skate Fairy is a bird fairy who appears in the 1987 Sesame Street book Where Is My Skate? She comes to Big Bird in a dream, so he assumes she's there to help find his skate. Instead, the Skate Fairy gives Big Bird the necessary hint to find the skate on his own when he awakes. She also claims to be a cousin of the Tooth Fairy.
See also
Ad blocker interference detected!
Wikia is a free-to-use site that makes money from advertising. We have a modified experience for viewers using ad blockers

Wikia is not accessible if you've made further modifications. Remove the custom ad blocker rule(s) and the page will load as expected.