DEBUT
1990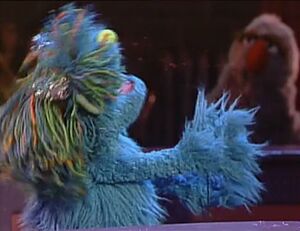 The Shagri-Las are a trio of furry blue monster girls who have sung several times on Sesame Street. One of their songs is "Brush Boogie". In a 1990 episode, one of them appears to sing "Sound It Out" to a clarinet player named Dan, who is learning to read. They have also appeared at Birdland to sing a song about fur.
Their name is a reference to the 1960s pop girl group The Shangri-Las.
Notes
All three singers' voices are dubbed. Ivy Austin performed one of them.
The Shagri-Las are among the very few monsters with visible ears.
All three puppets later appeared with different features as members of Rosita's family. One was used frequently as an AM monster.
Their design is very similar to Mel, though Mel possesses horns, a chubbier body and a thinner face.