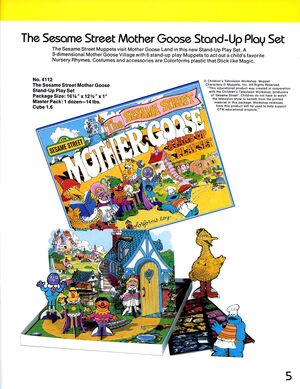 The Sesame Street Mother Goose Stand-Up Play Set was a Colorforms playset released in 1978 featuring artwork by Michael Smollin. Cut out characters of Grover, Big Bird, Cookie Monster, Bert, Ernie and Betty Lou were included, to dress up with accessories.
Among the Nursery Rhymes that were featured were Peter Peter Pumpkin Eater, There was an Old Woman Who Lived in a Shoe, Jack Be Nimble and Little Bo Peep.
Ad blocker interference detected!
Wikia is a free-to-use site that makes money from advertising. We have a modified experience for viewers using ad blockers

Wikia is not accessible if you've made further modifications. Remove the custom ad blocker rule(s) and the page will load as expected.