The Sesame Street Dictionary is a collection of more than 1,300 words and definitions. Each word is illustrated with a Sesame Street cartoon by artist Joe Mathieu. With 250 pages and an average of six different illustrations per page, the Dictionary is packed with Sesame comedy. The book was later divided up into several volumes of Big Bird's Sesame Street Dictionary.
One of Mathieu's hallmarks is his sincere appreciation for the Sesame characters. The Dictionary is faithful to the show's style and spirit. It features dozens of Sesame characters, including some that are rarely seen.
Some of the rare characters are:
The entire list of characters is:
The Amazing Mumford, Baby Breeze, Bad Bart, Barkley, Bartholomew Bird, Bernice the Pigeon, Bert, Betty Lou, Biff, Big Bad Wolf, Big Bird, The Busby Twins, The City Mouse, Connie the Witch, Cookie Monster, Count von Count, The Country Mouse, Crummy and Yucchy, Don Music, Ernie, Farley, Farmer Grover, Fatatatita, Forgetful Jones, Frazzle, Fred the Wonder Horse, Granny Bird, Granny Fanny Nesselrode, Grover, Grover Knover, Grover's Mommy, Guy Smiley, Hard Head Henry Harris, The Hare, Herbert Birdsfoot, Herry Monster, Kermit the Frog, Lasso Louise, Lefty, Little Bird, Little Chrissy and the Alphabeats, Little Jerry and the Monotones, Little Miss Muffet, Little Pig, Little Red Riding Hood, Marshal Grover, Maurice Monster, Mr. Chatterly, Mr. Hooper, Mr. Johnson, The Mudman, Oscar the Grouch, Osvaldo, el Gruñón, Pamela Monster, Prairie Dawn, Prince Charming, Robin the Frog, Rodeo Rosie, Roosevelt Franklin, Roosevelt Franklin's Mother, Rubber Duckie, Sam the Robot, Sammy the Snake, Sherlock Hemlock, Slimey the Worm, Smart Tina, Mr. Snuffleupagus, Sully, Super Grover, Tessie Twiddlebug, Thomas Twiddlebug, The Three Bears, The Tortoise, Twiddlebugs, Uncle Uno, Waiter Grover, Witches
Layout proofs
Notes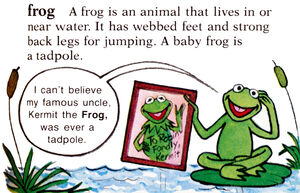 Other releases
Sources
External links
Ad blocker interference detected!
Wikia is a free-to-use site that makes money from advertising. We have a modified experience for viewers using ad blockers

Wikia is not accessible if you've made further modifications. Remove the custom ad blocker rule(s) and the page will load as expected.