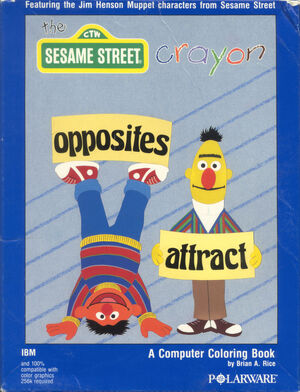 The Sesame Street Crayon is a series of Sesame Street computer games published by Polarware in 1987 for IBM PC and Apple II computers. The games are "computer coloring books", with illustrations by Rick Wetzel, who also provided illustrations for Sesame Street books in the mid-80s.
The game includes "coloring book" line drawings; players can point and click to fill in the blank areas with colors. Finished pages can be printed out in color.
The series includes three games: Letters for You, Numbers Count and Opposites Attract.
Ad blocker interference detected!
Wikia is a free-to-use site that makes money from advertising. We have a modified experience for viewers using ad blockers

Wikia is not accessible if you've made further modifications. Remove the custom ad blocker rule(s) and the page will load as expected.