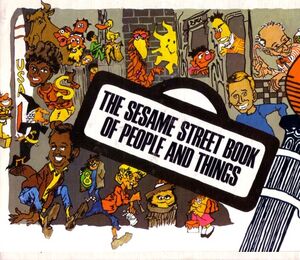 Segments from Sesame Street that were included in this book include:
Ernie calling his bathtub "Rosie"
A cartoon about Solomon Grundy
Cookie Monster uses Ernie's phone for a long time while Ernie waits impatiently for Cookie Monster to end his phone conversation because he expects an important phone call from Bert.
In initial (and most) copies of this book, a page towards the end, containing a photo of a small girl crying, had no text. Later printings added the line "Sometimes we feel like crying" to this page.
Gallery
Also in this series
External links
Ad blocker interference detected!
Wikia is a free-to-use site that makes money from advertising. We have a modified experience for viewers using ad blockers

Wikia is not accessible if you've made further modifications. Remove the custom ad blocker rule(s) and the page will load as expected.