"The Sesame Street Alphabet" is a Sesame Street song performed by the Muppet cast in a season 44 insert.
Each character pops in and out the frame, singing the letters of the alphabet and words beginning with each letter (including objects, animals and even their own names).
The segment features appearances by Elmo, Abby, Bert, Cookie Monster, a frog (Joey Mazzarino), Grover, a pig (also Joey Mazzarino), Ernie, a kitten, Ovejita, Murray Monster, Oscar the Grouch, a poodle, Big Bird, a duck queen (John Tartaglia), Rosita, a sandwich (Tyler Bunch), Telly, Baby Bear, Slimey the Worm, Zoe and various zoo animals.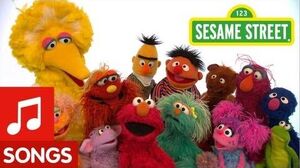 Releases
Video
Online
Ad blocker interference detected!
Wikia is a free-to-use site that makes money from advertising. We have a modified experience for viewers using ad blockers

Wikia is not accessible if you've made further modifications. Remove the custom ad blocker rule(s) and the page will load as expected.