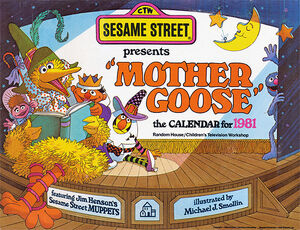 Sesame Street Presents "Mother Goose" is a Sesame Street calendar for 1981, with illustrations by Michael Smollin.
In 1982, the bulk of the calendar was reworked (with additional art) as the book The Sesame Street Players Present Mother Goose. The calendar's nursery rhymes were also used as a regular feature in the 1983 book series The Sesame Street Treasury.
Drawing Board also published a calendar for 1981, Sesame Street 1981 Poster Calendar.
Ad blocker interference detected!
Wikia is a free-to-use site that makes money from advertising. We have a modified experience for viewers using ad blockers

Wikia is not accessible if you've made further modifications. Remove the custom ad blocker rule(s) and the page will load as expected.