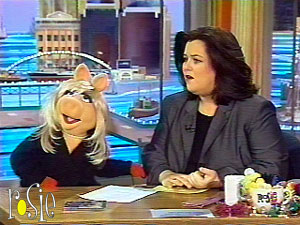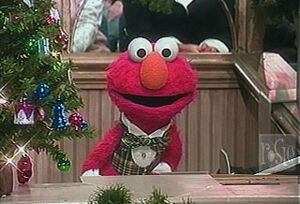 The Rosie O'Donnell Show was a nationally syndicated talk show hosted by comedian Rosie O'Donnell that ran from 1996 to 2002. The Sesame Street Muppets, mainly Elmo, made many stops on her show, as Rosie is a big Sesame fan.
Appearances
July 1, 1996 — Miss Piggy takes over hosting the show for the first two segments. O'Donnell announces that she'll be on Muppets Tonight (but it was canceled before she could appear). Piggy plugs In the Kitchen with Miss Piggy. Over the end credits, Piggy sings along to "Muskrat Love" with O'Donnell, Katie Couric, and Captain & Tenille.
June 28, 1996 — Elmo interrupts interviews with Regis Philbin and Erika Slezak. He shows up later as the last guest.
September 6, 1996 — Kermit and Gonzo promote Muppet Treasure Island on home video.
February 3, 1997 — Hillary Clinton presents Oscar the Grouch with trash from The White House.
December 24, 1997 — Elmo
February 16, 1998 — Reba McEntire co-hosts; Elmo and O'Donnell sing "Nearly Missed" to promote Elmopalooza.
November 5, 1998 — Elmo
November 11, 1998 — O'Donnell hosts the show from the set of Sesame Street. Whoopi Goldberg and Roberta Flack also appear.
January 28, 1999 — Gloria Estefan guest hosts. Elmo and Rosita appear to promote the Elmopalooza! soundtrack. They help give tips to Gloria on hosting the show and perform the song "Mambo I, I, I" with her.
February 8, 1999 — Miss Piggy promotes her perfume Moi, and donates her glove to the For All Kids Foundation; it was auctioned on eBay for about $500.
September 21, 1999 — Elmo
December 3, 1999 — Kermit and Gonzo appear in the "Rosie's Craft Corner" segment, for The Muppets Big Book of Crafts; both of their craft jackets were auctioned on eBay.
December 6, 1999 — Elmo appears to promote CinderElmo.
May 2, 2000 — Elmo appears to promote Buckle Up America.
January 4, 2001 — Elmo
March 26, 2001 — Elmo talks about the Hurricane on Sesame Street; O'Donnell plugs the week of episodes beginning with Episode 3976.
September 21, 2001 — Elmo appears during the first week of shows since 9/11. O'Donnell brings out her son Blake and they sing "Put on a Happy Face".
February 6, 2002 — Members of the audience get an ABC Elmo doll. Elmo talks about the events of Episode 3981 when Hooper's Store caught on fire.
May 2, 2002 — Elmo
Dates unknown
Elmo visits Rosie while her show is in L.A. for a couple of weeks. Elmo tries to find another acting gig. Joey and Davey Monkey also appear, stealing snacks from Rosie's New York studio. - 1997
References
In Miss Piggy's Rules, the section "Moi's Top 10 Reasons You Are Better Off Without Him" lists watching taped episodes of Rosie at dinner as number six in the list.
External links