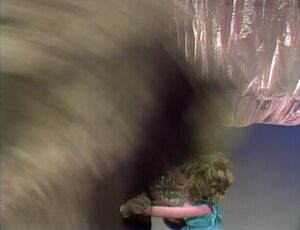 The Rolling Stones are a British Rock N' Roll band active since 1962. Among its most famous members are Mick Jagger and Keith Richards.
During an At the Dance segment on episode 117 of The Muppet Show, a slightly different group of the same name comes rolling through.
The band was also parodied on Sesame Street as The Cobblestones, who also did a parody of their song "(I Can't Get No) Satisfaction" as "(I Can't Get No) Co-Operation". In addition, the lead Muppet of the band, Mick Swagger, was a parody of the Rolling Stones' lead singer Mick Jagger.